Safalya
Real life stories about ordinary people empowered to seize the opportunities that came their way, thanks to Manappuram Gold Loans.
A tractor driver becomes tractor owner


Paka Dillip Dora, used to be a tractor driver living in a village called Erendra in the Ganjam District of Orissa. His father is a marginal farmer owning a small plot of one and a half acres in a drought-prone area. Dillip worked on daily wages as a tractor driver with a landlord in a neighbouring village. His brother, who works as a mechanic in Dubai, occasionally sends money home and the family was considering buying more agricultural land with the savings when a civil construction project came up in the area. Consequently, there was good demand for tractors to remove soil. Dillip decided to shelve the idea of going for more land and instead thought of buying a second hand tractor.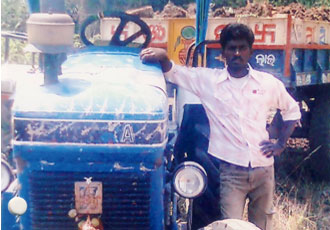 ​A deal was struck with a prospective seller and an advance amount of Rs.20,000/- was paid to seal the agreement to buy the tractor for Rs.2.80 lakhs. The agreement stipulated that the balance amount would be paid on or before January 10, 2011 failing which the advance amount would be forfeited.
As the due date approached, it turned out that the balance amount could not be raised in full and he was about to forfeit the advance amount. It was at such a moment of despair when he was all but resigned to washing his hands off the advance amount of Rs.20,000 that he decided to reengage himself as a tractor driver with the landlord.
Coincidentally, that very same day, he chanced to see a television advertisement for Manappuram Gold Loan at his employer's residence. He promptly went home, enquired about the available gold, gathered whatever was there and came to Manappuram's Old Bus Stand Branch at Berhampur. It was a pleasant surprise when the branch officials told him he was eligible for a loan of Rs.56,000/-. This was well above his expectations and more than adequate for the purpose. The balance amount was paid on the last day of the deadline and today, as a proud tractor-owner, he earns about a thousand rupees a day from soil removing work in the construction sector.
Gold Loan Branch: Berhampur Old Bus stand Branch, Orissa
Date of first transaction: January 10, 2011
Purpose of Loan: Meet shortfall for purchase of second hand tractor
A young widow supports her family


V Rajani is a young widow from Palakkad who runs a small business supplying cooked food items like "vada", "appam", "bajji" etc. to the pushcart vendors around the city bus stand. It was the death of her husband two years ago and the compulsion to earn a livelihood and support her family that forced her to start off on her own.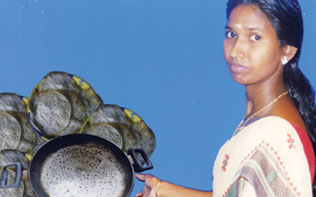 When she began, she had no background in business and she had no idea if she would get a bank loan. Like most Indian women, she had some gold and with that she came to Manappuram's Palakkad Town RS Road branch for a gold loan. And now she earns anywhere up to twelve hundred rupees a day from her business. What is more, over the course of two years, she managed to save enough money to buy a small plot of land. Today, but for the gold loans that she takes from Manappuram, she has no other liabilities. She now looks forward to building a house for her family consisting of her mother and child.
Gold Loan Branch: Palakad Town RS Road Branch, Kerala
Date of first transaction: May 13, 2009
Purpose of Loan: Working capital in business of supplying cooked food items
A small Transport Operator survives in a competitive business


ukumaran P is a lorry driver, who drives his own lorry. This is a trade where unexpected expenses are routine. In the beginning, he depended on friends and relatives, but over time, the experience was unhappy. Hence he began considering gold loans as an option. He availed his first gold loan in 2006. They were many options open to him in picking out the institution to avail the gold loan. However, it was Manappuram Finance that he finally chose because this company gave the maximum loan per gram. His first loan was for Rs.17,700/- which was used in the business. From this time onwards, he has been a regular gold loan barrower of Manappuram's Irrity Branch, in connection with his business.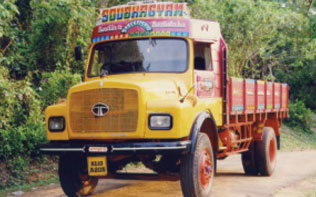 Looking back, Mr. Sukumaran is convinced his first decision to approach Manapppuram for gold loan was the right decision. Initially influenced by the high LTV, he now finds other aspects about Manappuram's functioning of convenience to him. For instance, the extended working hours of the branch, from 8.30 in the morning to 5.30 in the evening, is convenient to him. Also, the fact that branch functions on Sundays as well. Besides, even during rush hour, transactions are completed on time. He now makes it a point to recommend Manappuram to his friends and relatives.
Gold Loan Branch: Iritty Branch, Kerala
Date of first transaction: December 28, 2006
Purpose of Loan: Working capital for transport business
A housewife in need sets up a beauty parlour

Vaheeda belongs to a village in the hilly regions of Pathanamthitta District. After her marriage, she led the typical life of a simple housewife as her husband was working abroad. About two or three years ago, her life was thrown into turmoil when her husband lost his job and was forced to return home as no other jobs were forthcoming. Her family did not have much of savings and were soon in serious financial difficulties. With household expenses and the education of children, they borrowed money from local pawn brokers. Their debts mounted and they began facing harassment.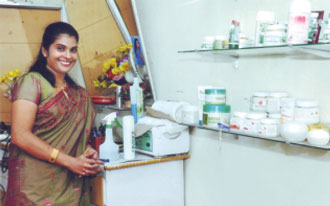 It was at this moment of despair that that she began thinking about starting a new business. After her education, Vaheeda had also qualified as a beautician, so they decided to start a beauty parlour at a nearby centre called Konni. For this purpose, they first took a loan from a credit society run by a woman's Self Help Group (SHG). But the amount was not adequate for the purpose. So, Vaheeda and her husband decided to pledge their gold. They went to many establishments but the amount they offered was not enough. Finally, Vaheeda and her husband come to know that Manappuram Finance gives higher amounts as loans against gold. They came to Manappuram Finance and were pleasantly surprised by how easy and hassle free the process was. With the gold loan, they were able to start the business. Now the business is stable and Vaheeda is grateful to Manappuram for having come to her help at a crucial time in her life, that later turned out to be a turning point.
Gold Loan Branch: Konni Branch, Kerala
Date of first transaction: July 21, 2008
Purpose of Loan: To start a beauty parlour
A small scale industrialist discovers gold loans


It was in January, 2010, that G Eswariah commissioned his own small scale industry in the name of "M/s Nandi Engineering Works" at Moulali and started producing spare parts etc. connected with bore wells. As he was short of working capital, he approached Manappuram Finance and availed a gold loan of Rs.6,000/- for the first time in February, 2010.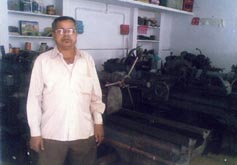 Thereafter, he has availed gold loans from Manappuram on several occasions, for a total amount of over Rs.5 lakhs and managed to improve his business. Moreover, he has been very prompt in repayments having repaid most of his borrowings but for a nominal outstanding loan of Rs.42,000/-. Today, he is grateful to Manappuram Finance for the prompt service that has always been extended to him and for having enabled him to bring his business up to a stable footing.
Gold Loan Branch: Moula Ali Branch, Hyderabad
Date of first transaction: February 06, 2010
Purpose of Loan: Working capital for SSI unit

For over 25 years, Kanagaraj worked in a poultry farm on meagre wages. He often had to borrow money from friends and even pledged his family's gold in a nationalised bank. It was not a happy experience. He often had to wait for many hours and the loan amounts were not adequate.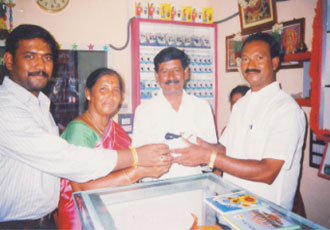 It was at such a juncture that he first heard about Manappuram Finance from a friend. He approached Manappuram for a gold loan and the experience was beneficial. He was given a higher loan amount as compared to the nationalised banks and the service standards were also much better. He got his money within minutes. He therefore took out all his ornaments from the bank and re-pledged it with Manappuram. He decided to start a business with the money. That was how his mobile shop (Krishna Mobile Sales & Service) came up at the Namakkal-Thuraiyur Main Road in 2010. Now he is happy that he has been able to reach a cherished milestone in his life. He attributes his success to Manappuram General Finance & Leasing Ltd. and is grateful to the company.
Gold Loan Branch: Trichy Road Branch, Namakkal, Tamil Nadu
Date of first transaction: August 12, 2010
Purpose of Loan: To start a business dealing in mobile phones
A canteen owner improves his business


M. Muthukumar has been running a small canteen, "Sri Kumaran Cafe", for the past 23 years at West Avanimoola Street, Tenkasi. He has been availing gold loans from Manappuram Finance (Tenkasi Branch) since May 2010 for use as working capital in his business.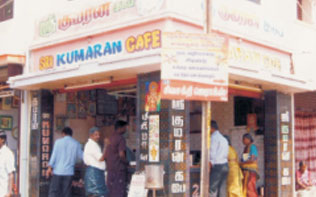 He says that thanks to the timely financial assistance (by way of gold loans), he has been able to expand his business. In the year 2009, his investment in his business stood at about five lakh rupees and in just a year, it has gone up to six lakh rupees. He says he was able to invest more in the business thanks to the gold loan facility from Manappuram Finance. At the Tenkasi Branch, Mr. Muthukumar is a VIP customer prompt in his repayments and who, in a little over one year, has already settled 24 loan accounts amounting to about Rs.10.70 lakhs.
Gold Loan Branch: Tenkasi Branch, Tamil Nadu
Date of first transaction: May 19, 2010
Purpose of Loan: Working capital for canteen business
A retailer of household appliances expands his business

R Suresh is engaged in selling of small home appliances. His shop, "Akshaya Agencies" is located at Kadayam road, Pavoorchatram, Tenkasi in Madurai District. He began this business eight years ago with an investment of Rs.4 lakhs. He has been a regular customer of Manappuram Finance (Tenkasi Branch), since September 2009.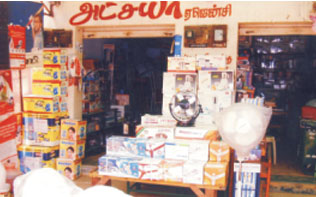 With the regular and timely financial assistance obtained by way of gold loans, he has improved his business and taken it to a higher level. His investment in his business now exceeds Rs. 8 lakhs and he is thankful for the timely financial help of Tenkasi branch of Manappuram Finance. He expresses the hope that he would continue to get timely financial assistance in the future too. As a regular customer at our Tenkasi branch, he has the status of a high value customer, having already settled gold loans of more than Rs.12 lakhs so far.
Gold Loan Branch: Thenkasi Branch, Tamil Nadu
Date of first transaction: September 24, 2010
Purpose of Loan: Working capital for small household appliances business
A medical store runs smoothly on gold loans

G Mariya Arul Baskar has been running "Arul Medical Stores" in the bus-stand complex at Alangulam for the past 4 years. Whenever he needs money, be it business or even personal exigencies, he approaches the Alangulam Branch of Manappuram Finance for gold loan. He has been a customer of Manappuram since 2009.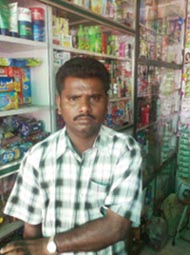 According to Mariya Arul Baskar, he prefers Manappuram Finance because he gets the maximum loan amount, and also because procedural requirements are few and transactions get completed within minutes. This aspect is particularly appreciated by him because he cannot afford to be away from his store for long hours. His business is now doing well and he has employed two persons to work under him. He gives full credit to Manappuram for having helped him in uplifting his business and his life. At the branch, Mariya Arul Baskar is a valued customer who has already settled gold loans amounting to over Rs.10 lakhs in the past two years.
Gold Loan Branch: Alangulam Branch, Tamil Nadu
Date of first transaction: December 5, 2009
Purpose of Loan: Working capital for his medical store

Komala's family owns around one acre of agricultural property at Ekarool, near Balussery. She was interested in agriculture, and starting a good vegetable garden and nursery was her dream. It was around this time she happened to be in the Balussery Branch of Manappuram Finance for availing a gold loan of a small amount. The loan was subsequently repaid within a short time. She was however heartened by the hassle-free experience and with the service extended to her. She also found the interest rates to be relatively lower.
A few days later, she availed a gold loan for a much larger amount from the branch and started a nursery to fulfil her dreams. Initially, she procured seedlings of Mango, nutmeg, different varieties of flowers etc. from Trichur Agriculture Centre. Business at the nursery was more than expected. As she cultivates the vegetables using organic manure and without using chemical pesticides, there was good demand from the nearby areas. She now earns more than Rs.10,000/- per month from this venture. The gold loans availed from Manappuram have also been largely repaid.
Gold Loan Branch: Balussery Branch, Kerala
Date of first transaction: January 18, 2010
Purpose of Loan: To start a nursery business